Help celebrate your Oskaloosa Bears at the Homecoming Parade, Wednesday September 27th @ 5:30 pm! Go Bears!❤️🐻💙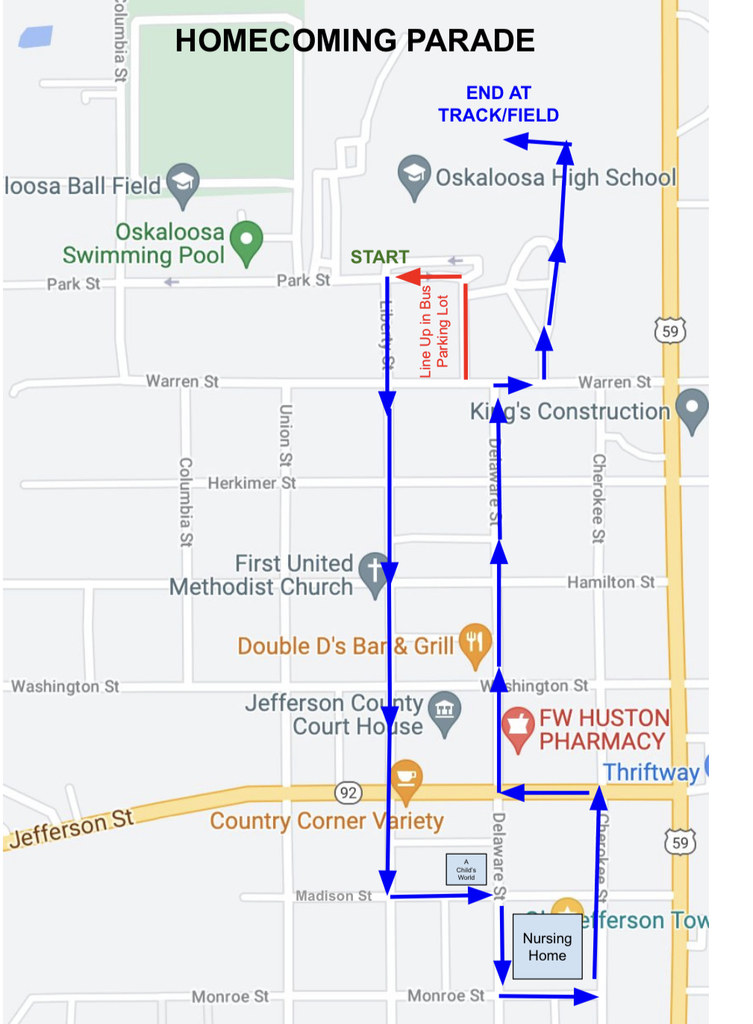 Spirit Week is next week!! Join in the fun by dressing the part each day!!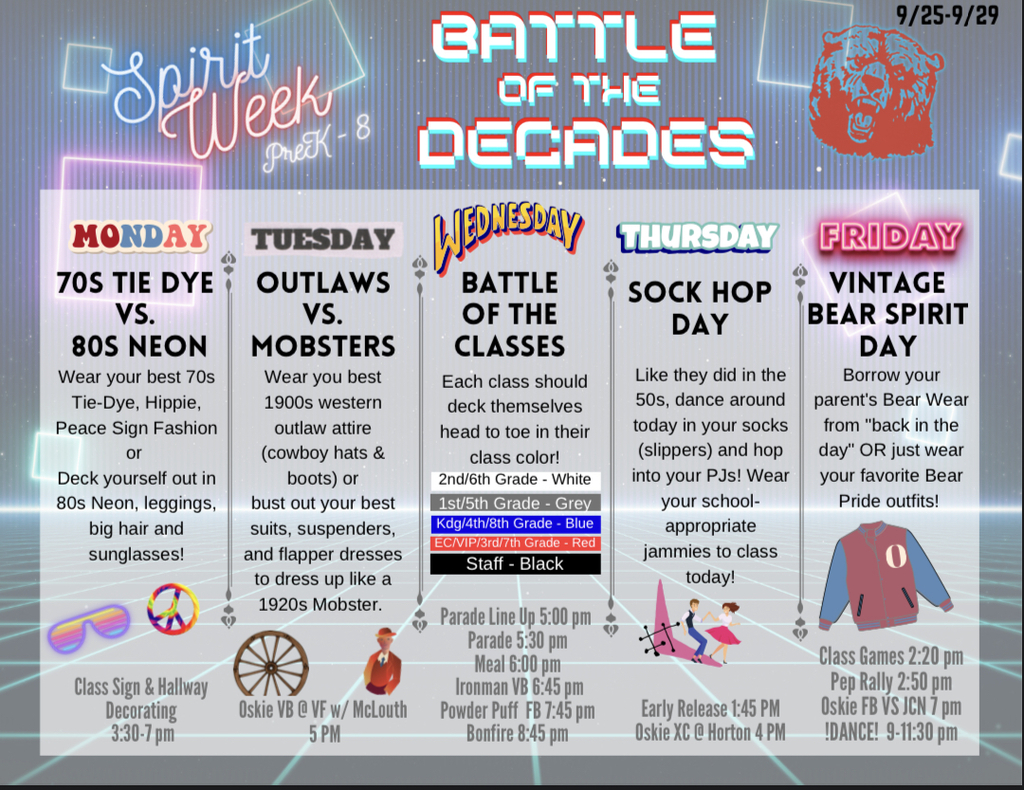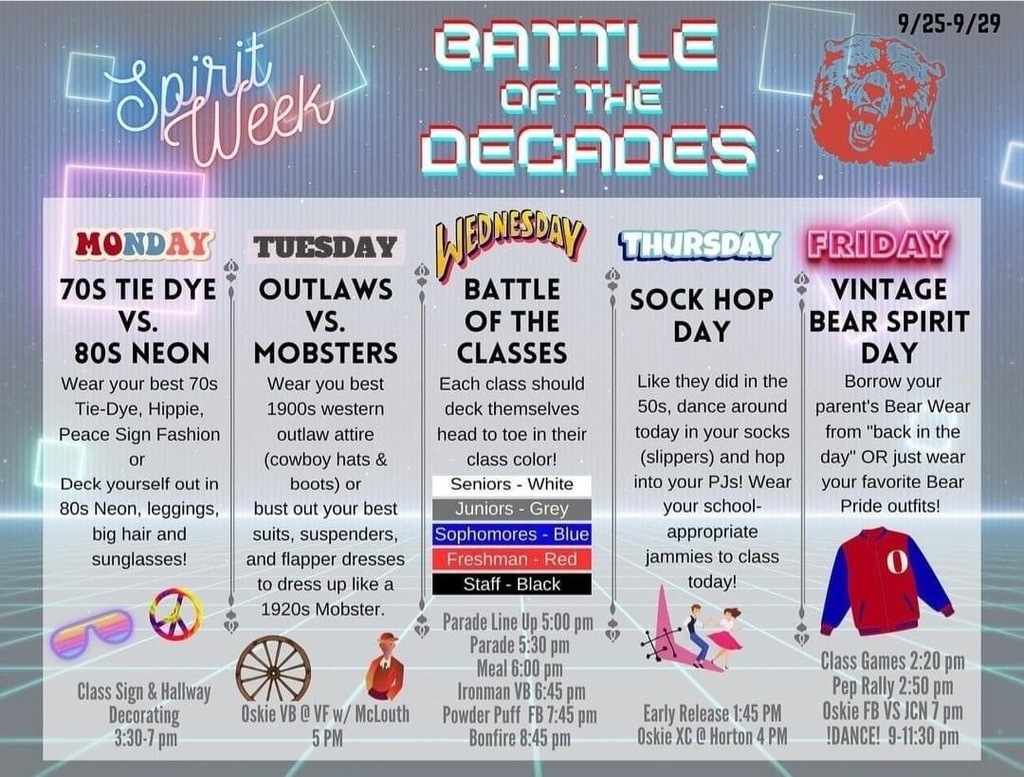 Congratulations Homecoming Candidates!🐻👑🐻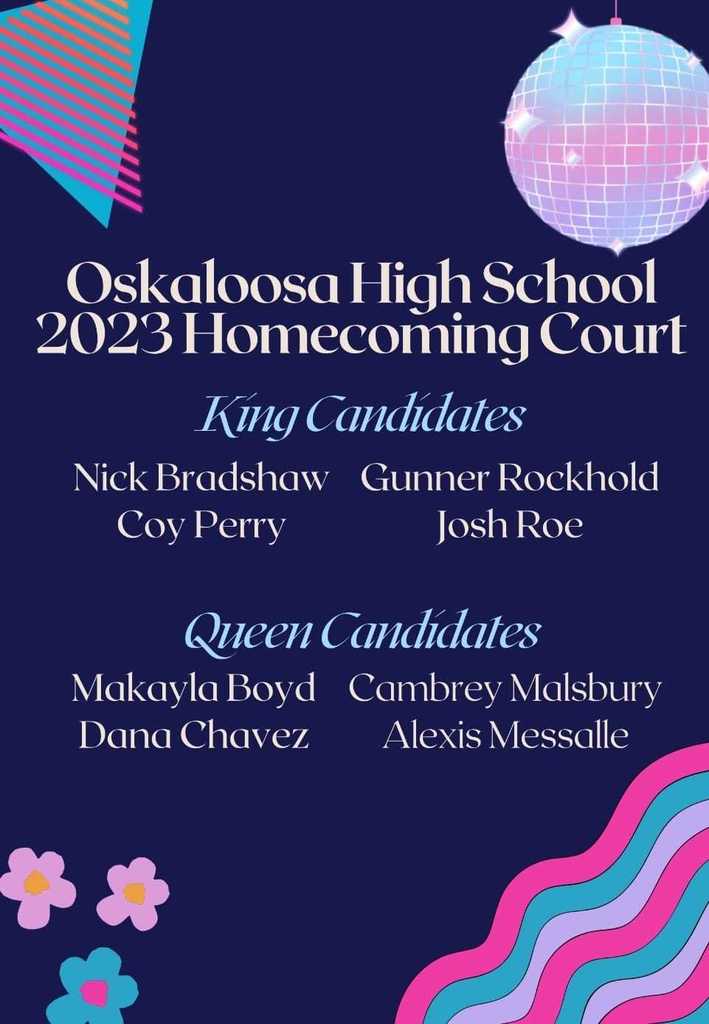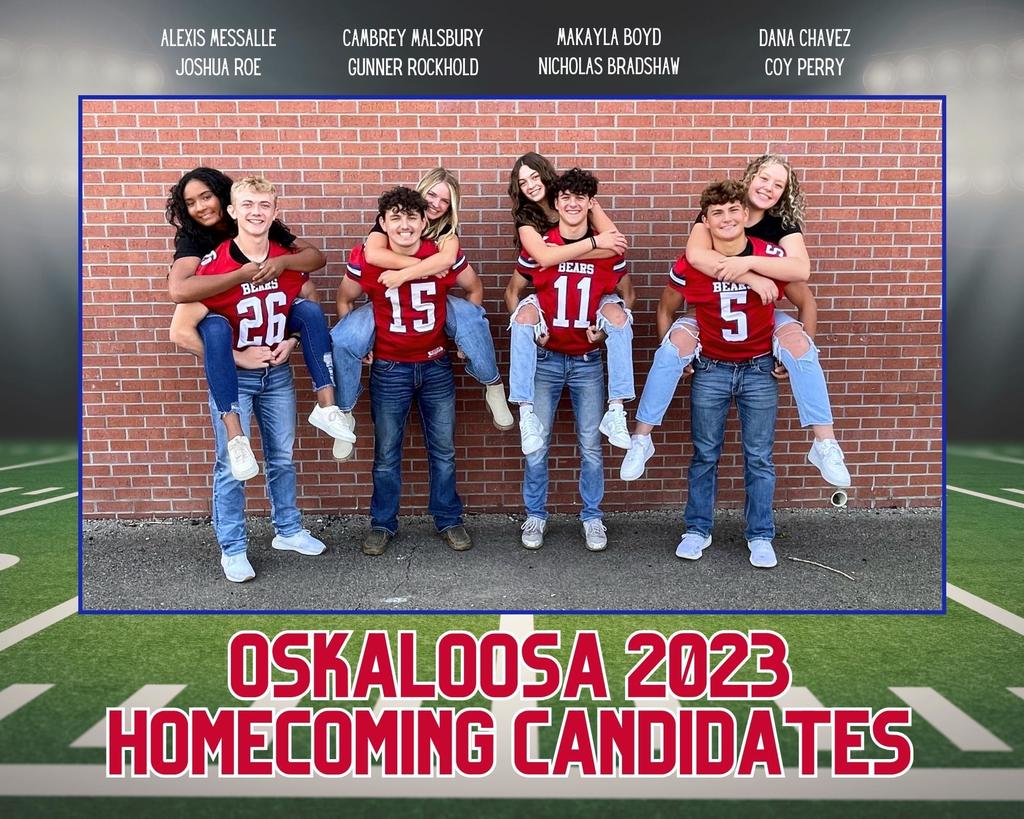 Jamboree at Valley Heights August 25 The high school football jamboree for tonight at Valley Heights High School is still on. The start time has been moved back to 8:00 in an effort to make sure the weather within the acceptable ranges according to KSHSAA. The team will leave at 4:30 and arrive around 7:00. We will scrimmage at 8:00 against Valley Heights first and Republic County second. Valley Heights is going to feed us pizza after we play, then we will head for home hopefully around 9:30, arriving back in Oskie around 12:00. As we all know, the heat is a concern. So Valley Heights has taken the following steps to help deal with the situation: -Tents will be set up in each team's space to provide shade. -We will have water tubs at each tent for athletes that need to be cooled off. -We will have ice available for teams to use. -When teams are on bye during the rotations they will have access to the school to cool off in air conditioning. -an AED will be on each sideline. -EMS crews will be attending the Jamboree -adequate breaks will be provided for rest and rehydration. Thank you for your patience as plans have changed several times this week. Scott Whaley Athletic Director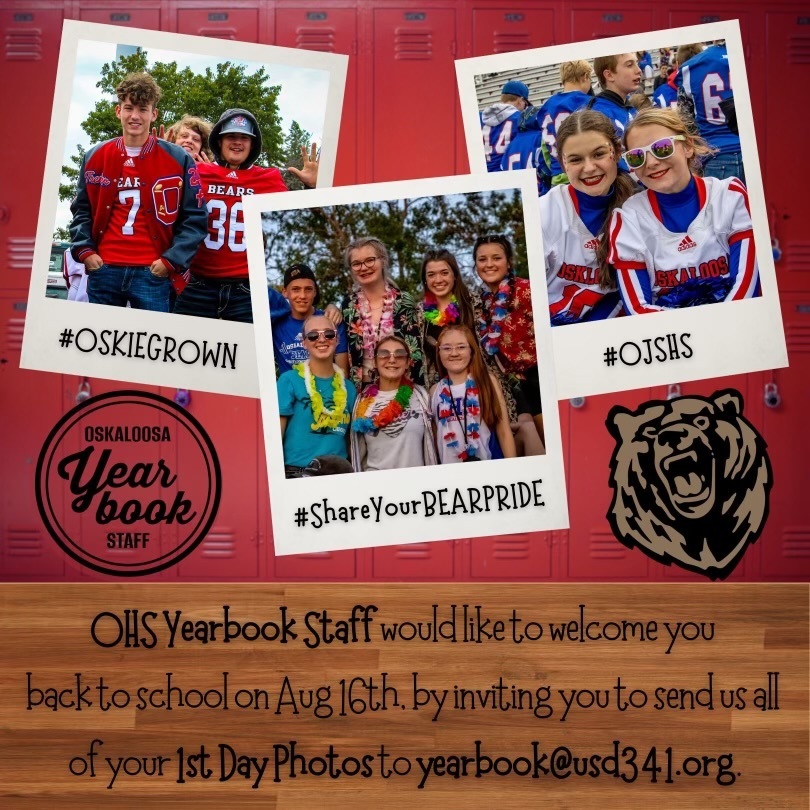 Keystone is hiring for paraprofessionals at OES. This is a great opportunity to make an impact on someone's life.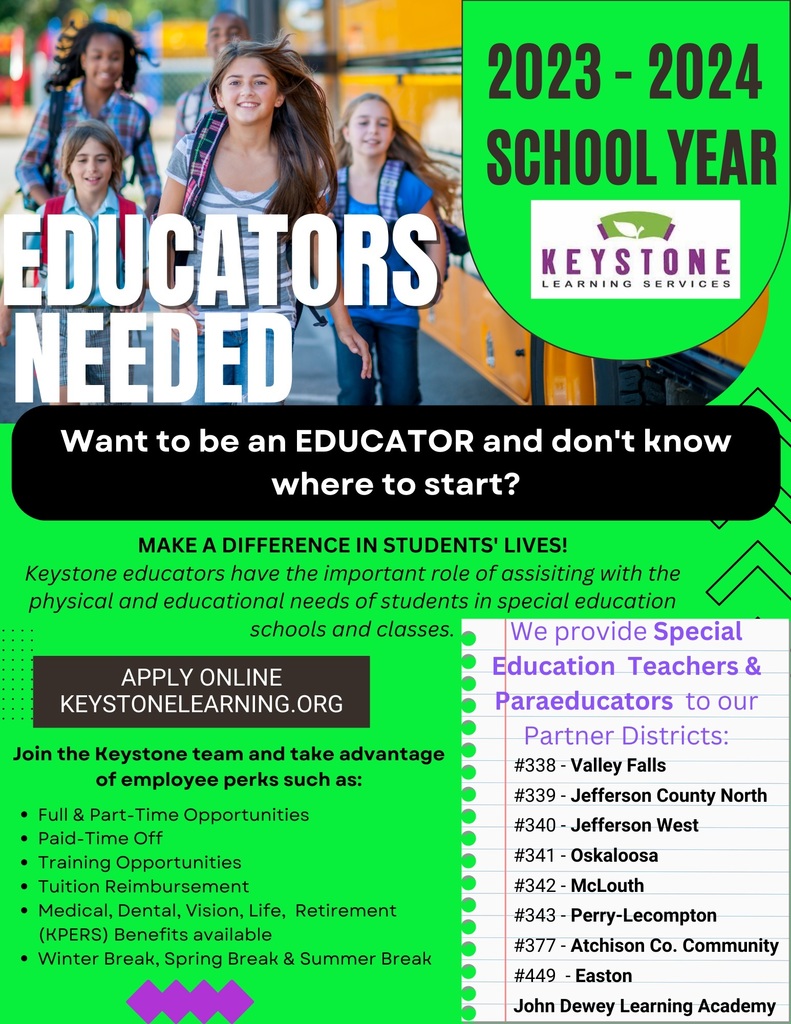 F.W. Huston will be at OJSHS on July 28th to perform physicals for the upcoming school year. Physicals are $20 cash or check. They will be in the MPR from 9:00-12:00; 12:30-3:00.
https://5il.co/1zhr3

Over the next 3-4 weeks please make every effort to keep everyone off the track and long jump areas. The track is getting the new surface and it can not be touched during this time. We will make a follow up post when it is available for use.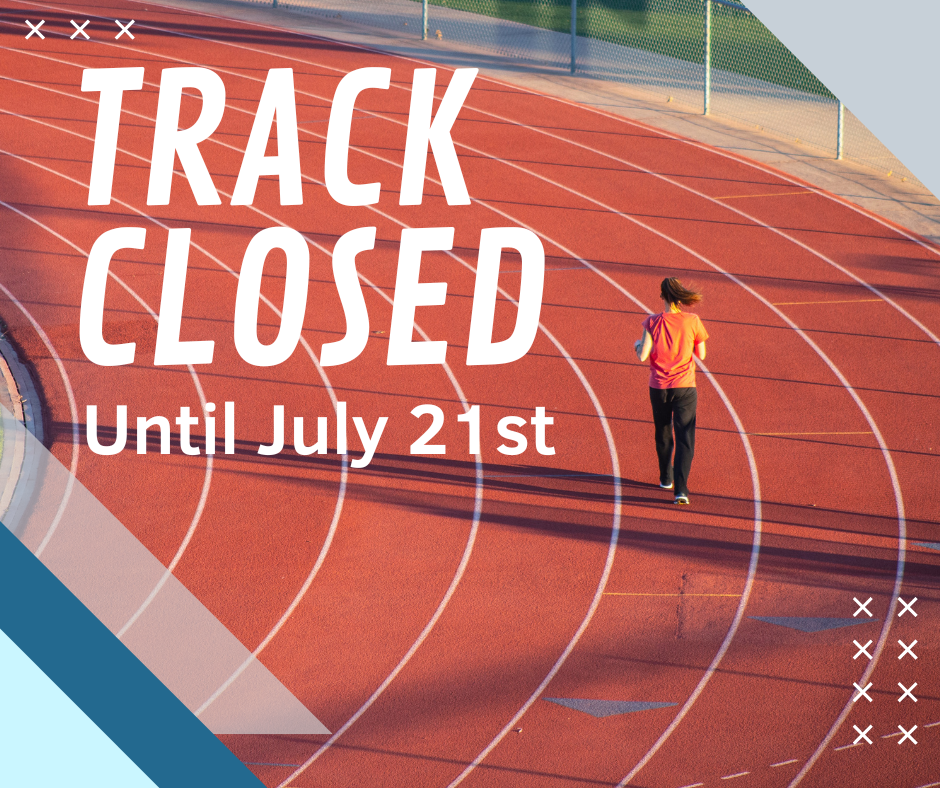 Registration for Camp:
https://app.summerathletes.com/camps/campcheckout/aa3c9026-ed30-4466-a740-bb1981d12b9d
Oskaloosa Jr/Sr High school Football camp for all 2023 Football Players. Jr. high campers will practice separately from High school campers. Plenty of repetitions for learning all Offense/Defense/Special team positions. This is an expectation for players to attend and learn in order to be ready for the first official day of practice August 14. Each camper will receive a football spirit pack with camp fee. Any questions please feel free to email Coach Minor
eminor@usd341.org
or
Swhaley@usd341.org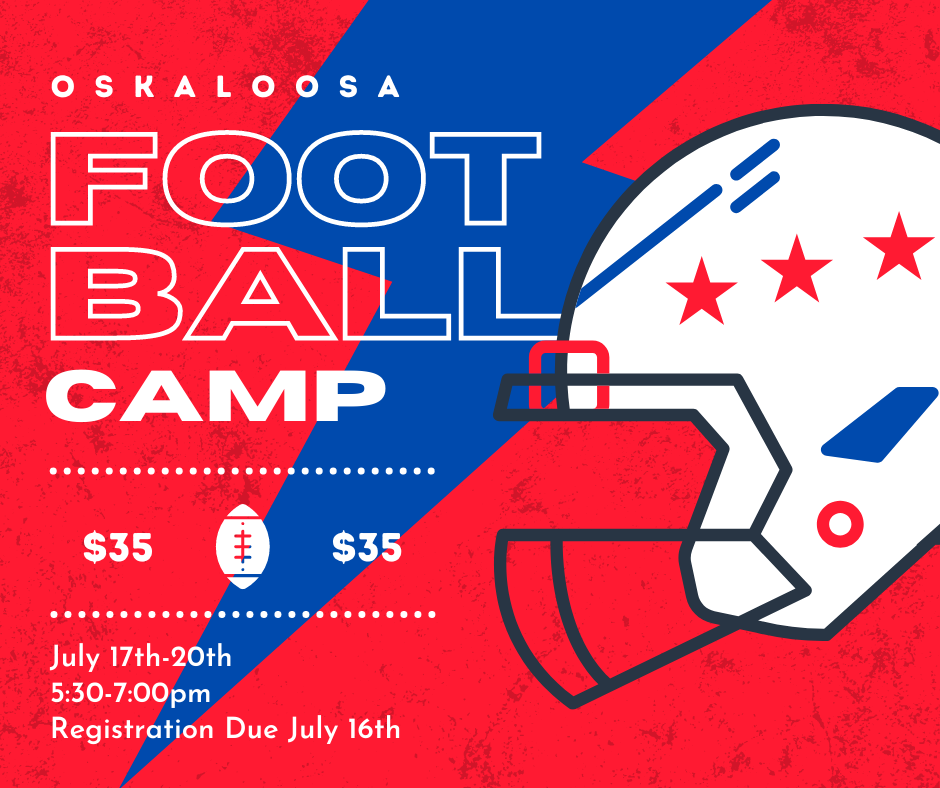 Due to field conditions the Regional Softball Games have been moved to Leavenworth High School, 3601 New Lawrence Road Leavenworth, KS 66048. The game times will hopefully be the same but with the changes please be courteous if there are any delays.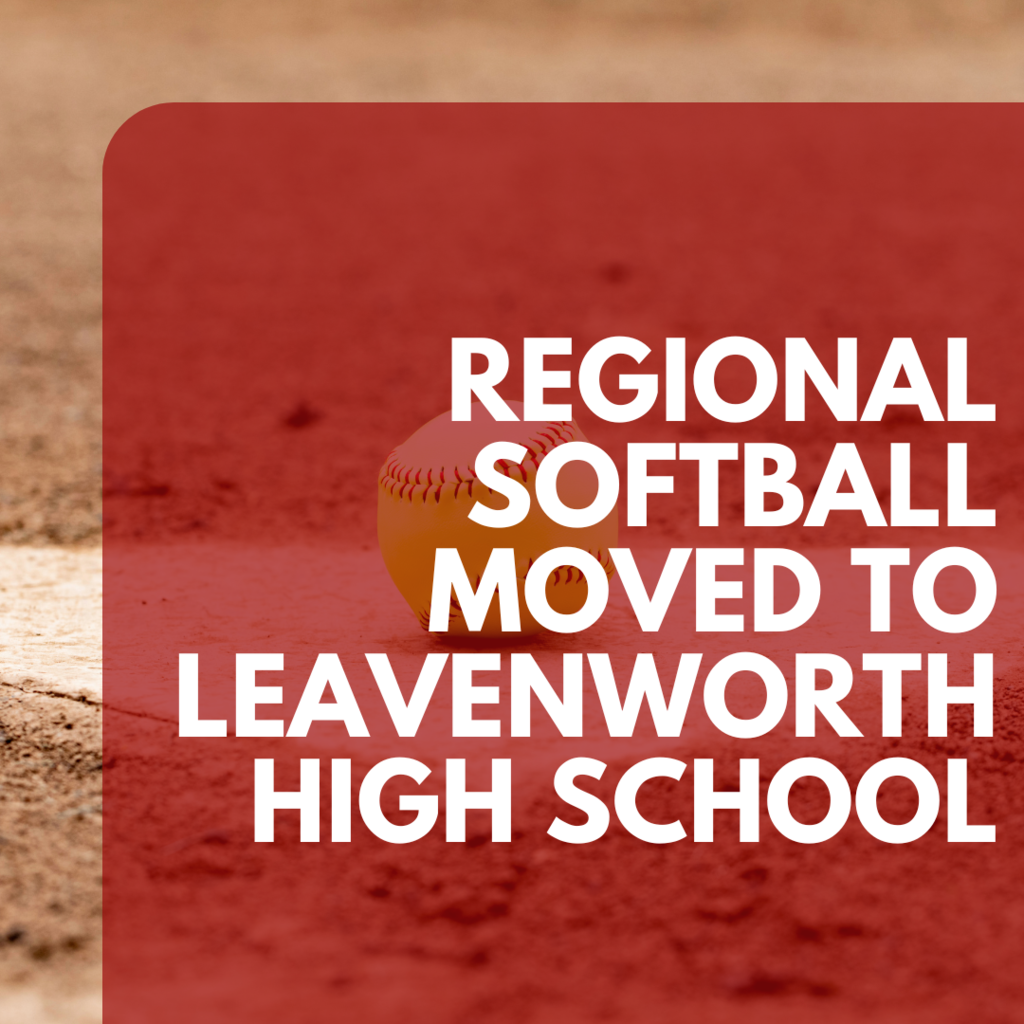 The alumni baseball game tonight has been cancelled.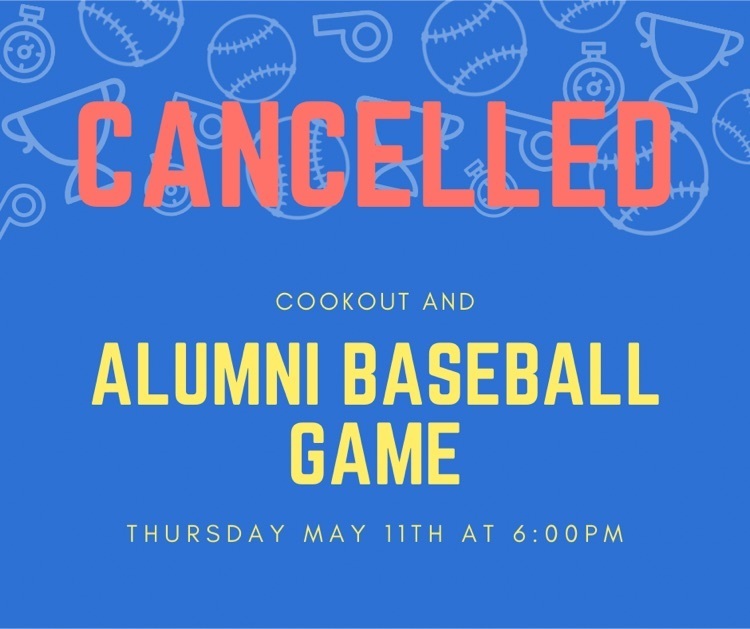 Congratulations to the 2023-2024 Class Officers!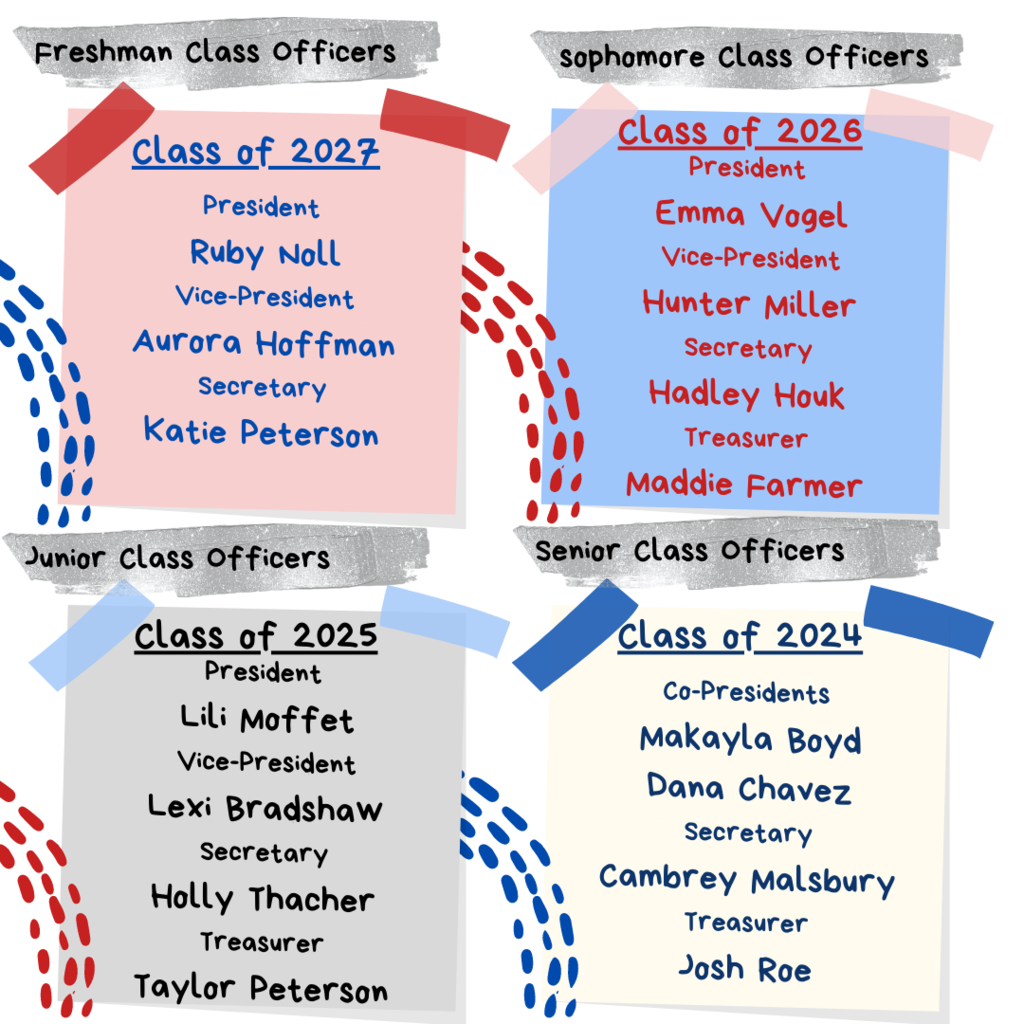 Graduation for Class of 2023 will be held in the high school gymnasium on Saturday May 13th.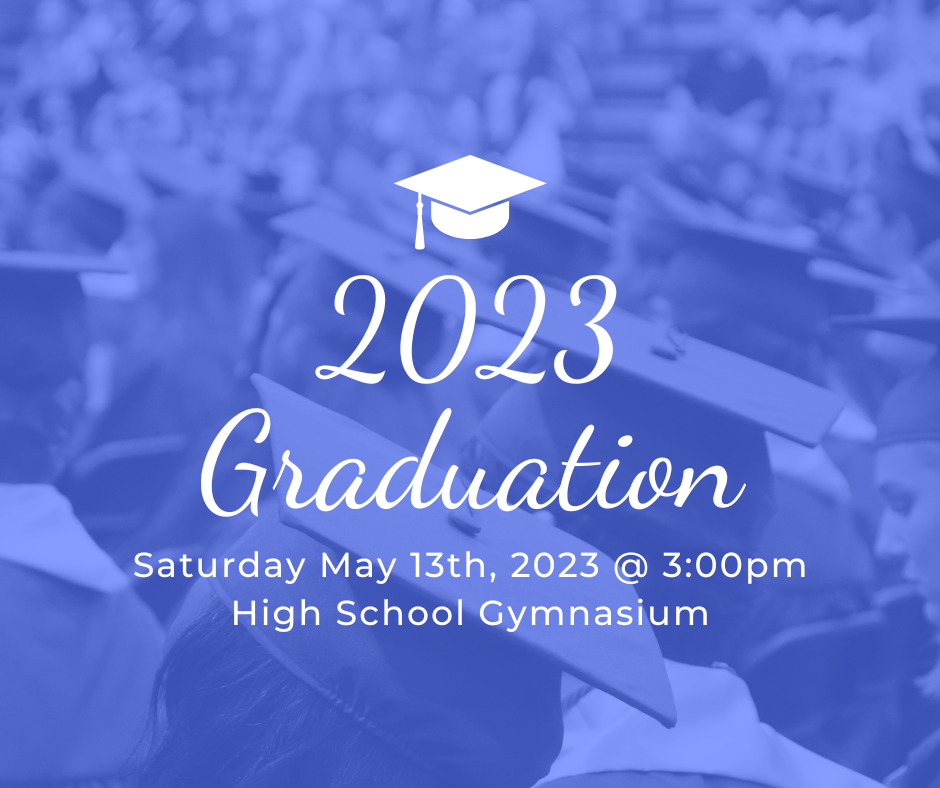 The annual alumni baseball game will be held this coming Thursday May 11th at 6:00pm. There will also be a cookout during the game.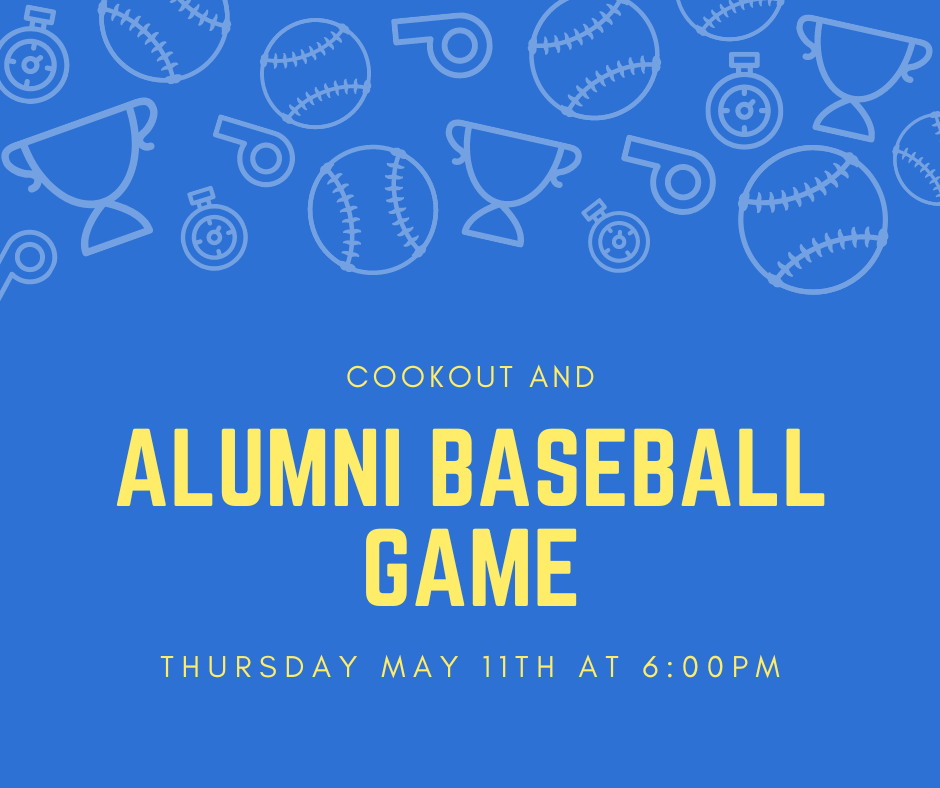 Oskaloosa Summer 2023 Driver Education Program $185 for In-District Students $250 for Out-of-District Students Classroom from May 30th - June 12th from 8:00am-12:00pm 2 week classroom session (10 Days) consisting of 40 classroom hours. Driving portion with start June 5th. Driving schedule will be determined during the classroom sessions. Driving portion is competency based. The student have certain skills they must demonstrate before they pass. Must be 14 by May 30th to take the class. Sign Ups in the high school office.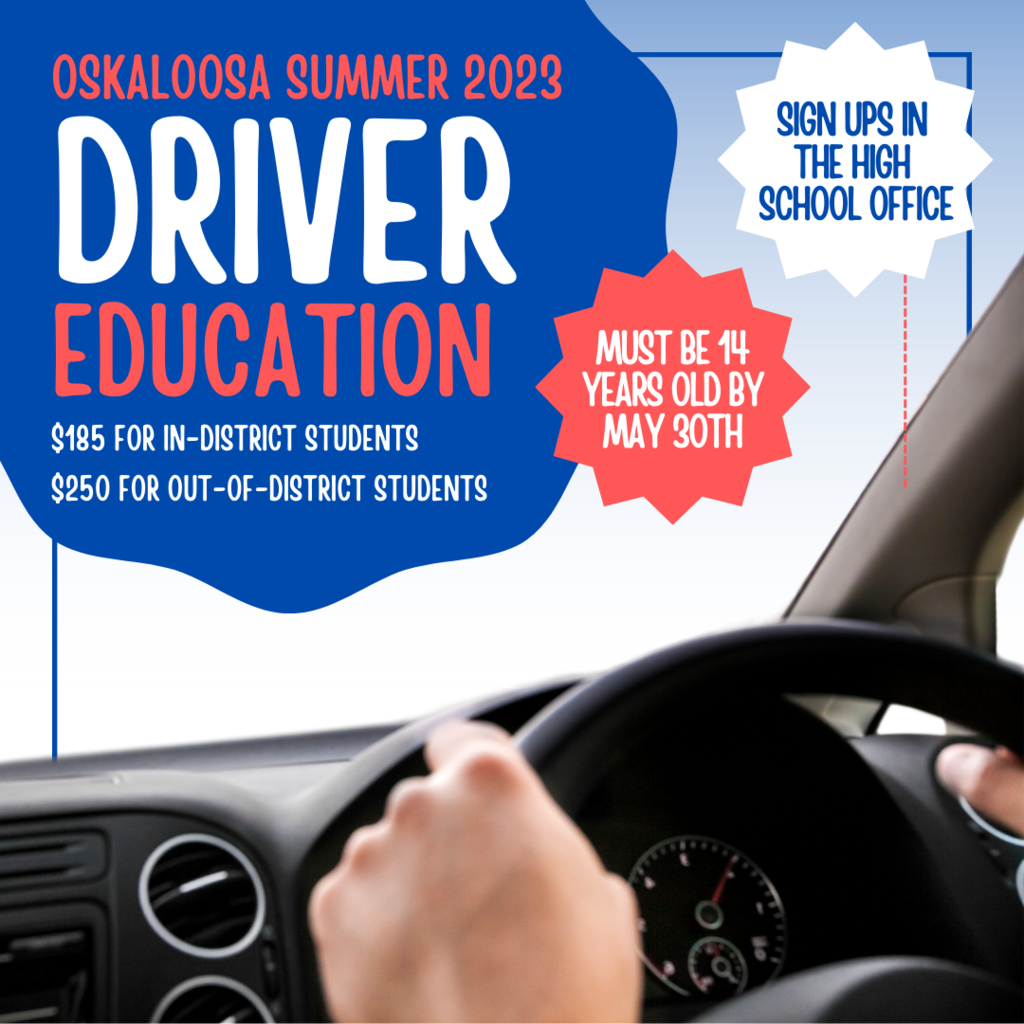 Join our 4th-grade classes as they present their Famous Kansans Wax Museum. They have been working hard on researching, writing, and memorizing their speech about their Famous Kansan. Maps will be available in each building to tell where each Famous Kansan will be.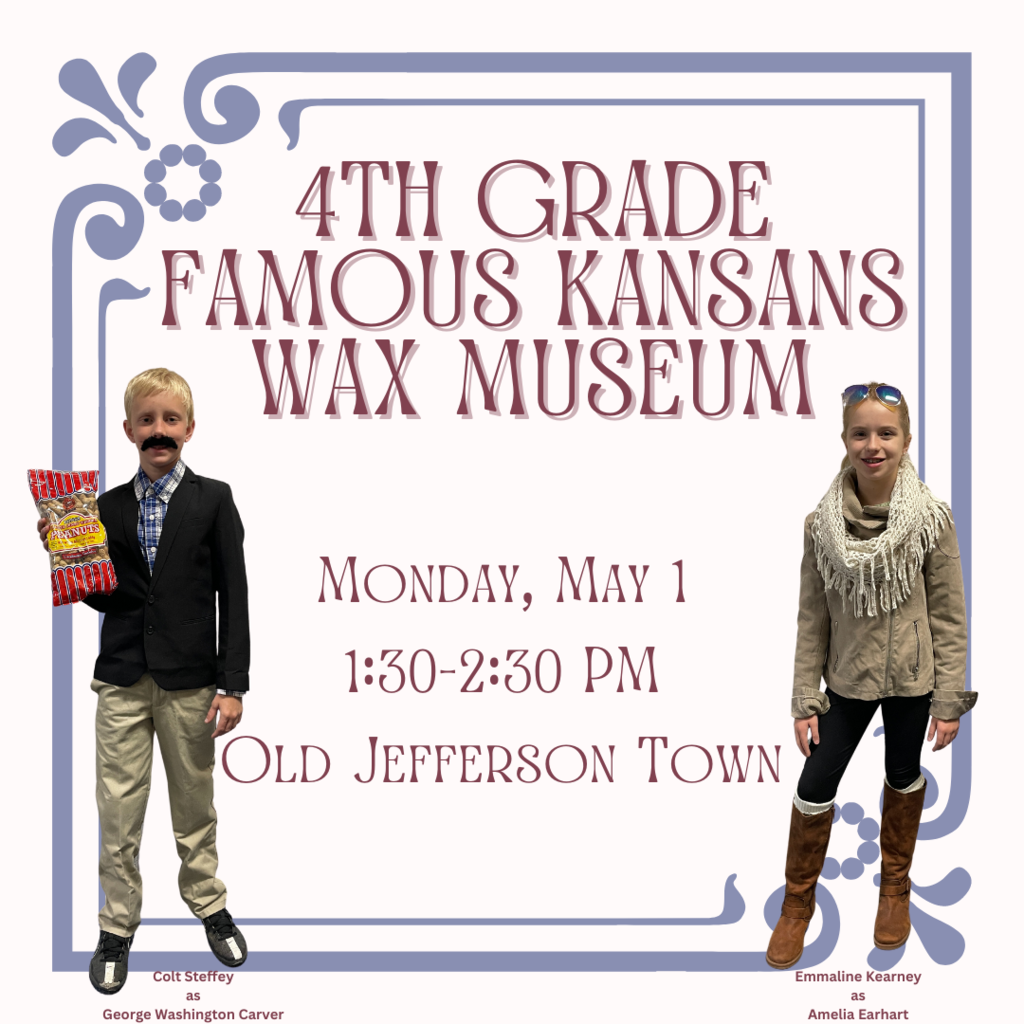 Oskaloosa High School will be hosting the Celebrate Success Assembly on Friday, April 28th at 11:00 a.m in the High School Gym. This assembly is an opportunity to highlight the successes of our seniors and celebrate their future plans. Parents and families are invited and encouraged to attend.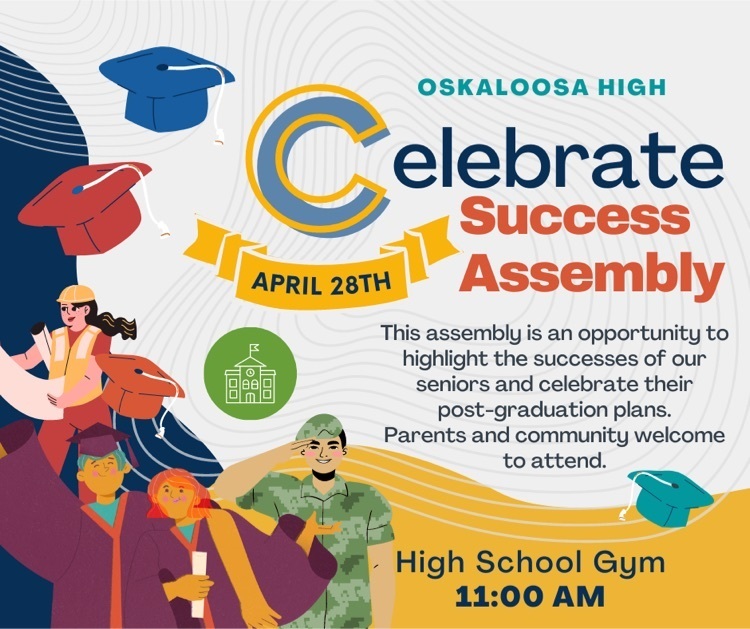 There will be parent meetings for enrollment in the upcoming weeks. Please meet in the MPR. 4/19 from 6:30-8:30 for Current 9-11th Graders 4/26 from 6:00-8:00 for Current 7-8th Graders 5/5 from 6:00-8:00 for Current 6th Graders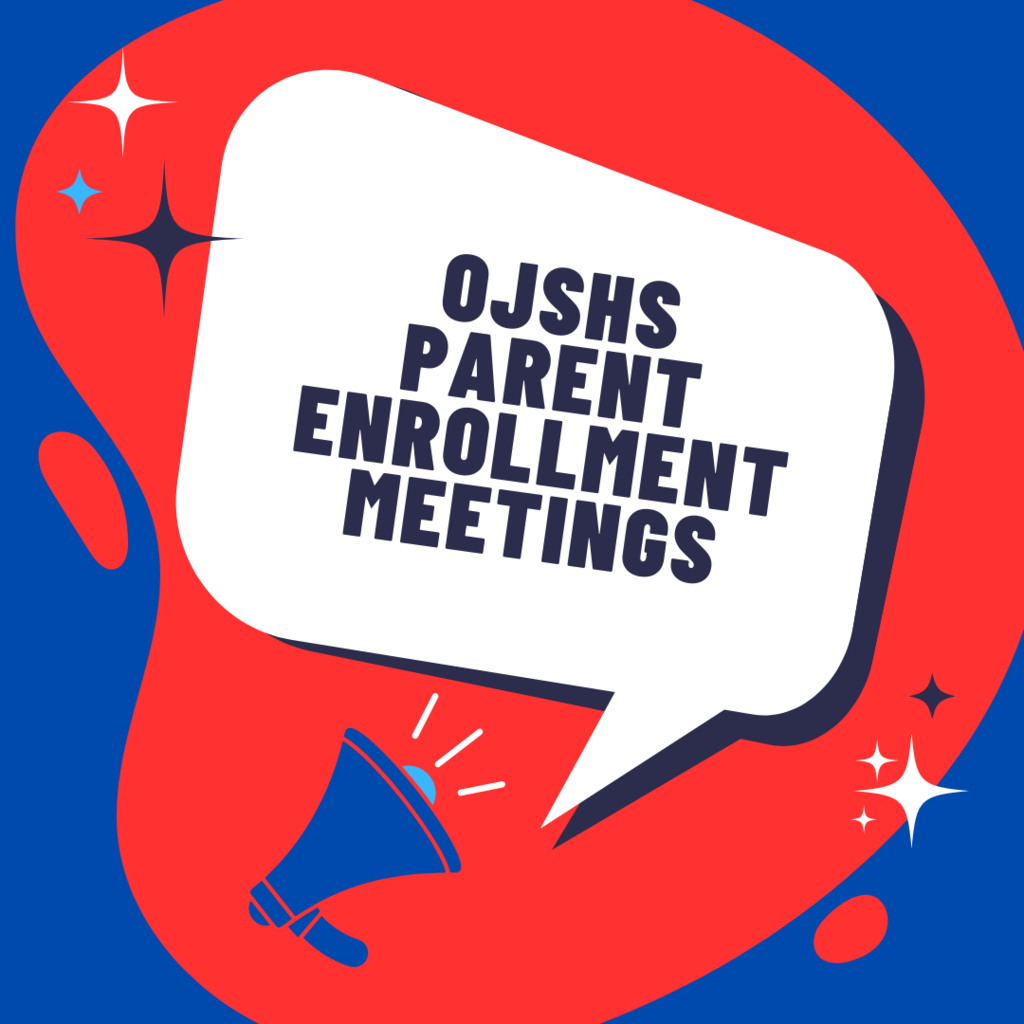 Elementary Yearbooks are now available. They are $15 each and checks can be made out to USD 341. Contact the OES for more information.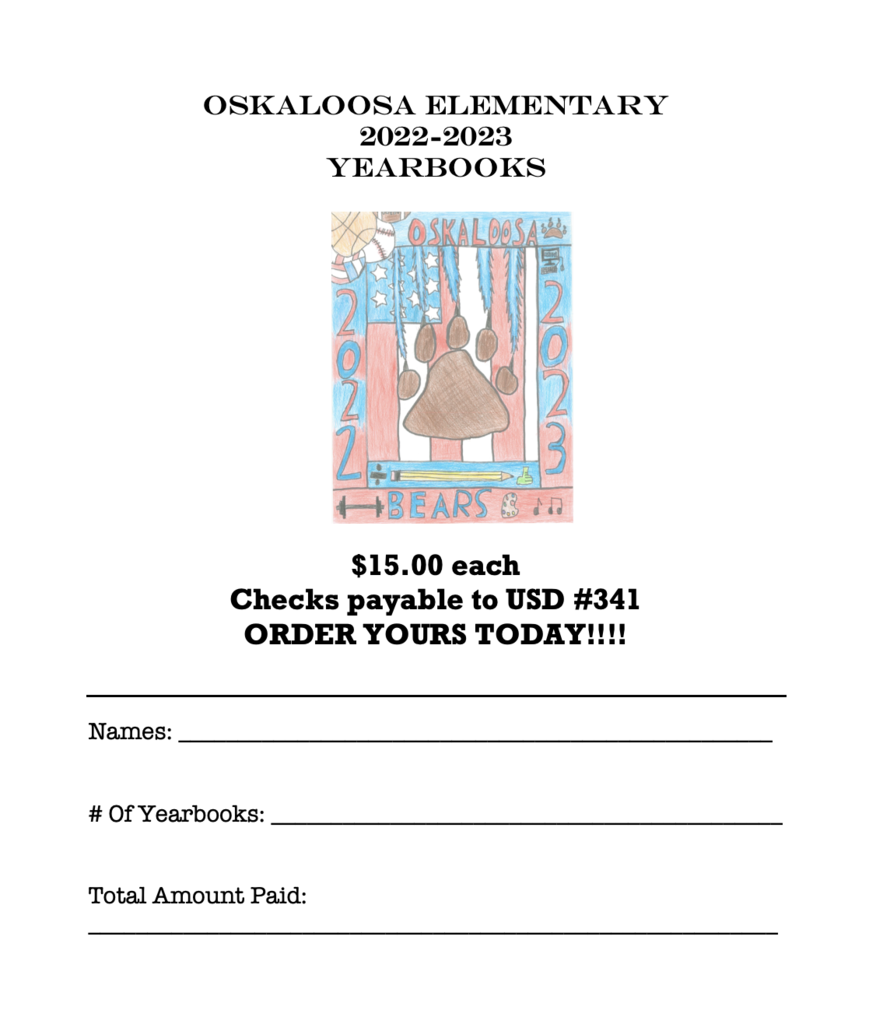 Enrollment Information for Fall 2023-2024 School Year Oskaloosa Elementary School VIP (Very Important Preschool) Program This is a FREE half-day, M-F academic preschool program which includes lunch and transportation. This program is for children 4 years of age on or before August 31, 2023. Qualified families will be placed first into the program. Additional applications will be placed on a first come, first serve basis. It is important to turn in your application as soon as possible. Enrollment packets will be available beginning March 31, 2023 at 8:00 a.m. at the Oskaloosa Elementary School Office. For questions, contact Cindy Glenn, District Registrar at 785-863-2539 x-129.