Oskaloosa Public Schools is located in central Jefferson County, in Northeast Kansas. The City of Oskaloosa has a population of approximately 1100, and is the county seat. Due to our proximity to Lawrence, Topeka, and Kansas City, a diverse population of families send their children to USD #341, although we have little racial diversity. Families that have been in Jefferson County for generations are mingled with families that have moved into the county from neighboring cities, and the many families that have settled into a nearby recreational lake area. Many residents commute out of the county to work. Our enrollment has been relatively stable for the last several years. Currently, our enrollment at OES (PreK - 6th Grade) is approximately 340 students, and OJSHS (7th - 12th Grade) is approximately 274.
TEACHING/ADMINISTRATIVE VACANCIES:
Certified Teacher/Staff Application
Positions also posted on the Kansas Education Employment Board educatekansas.org for outside applications. Positions are open until filled. Please contact the district office at 785-863-2539 ext. 501.
NON-TEACHING VACANCIES:
To apply for non-teaching openings, please fill out the application below and submit to:
Non-Teaching Application
SUBSTITUTE TEACHING APPLICATION:

SUBSTITUTE APPLICATION PACKET
KEYSTONE LEARNING SERVICES:
Keystone Learning Services is accepting applications for P/T, and substitute paraeducator positions for our School Districts in Oskaloosa, Valley Falls, McLouth, Atchison County Community Schools, Jefferson County North, Jefferson West, Perry-Lecompton, Easton, John Dewey Learning Academy, and to work with Speech and Language Therapists. Contact Keystone at 785-876-2214 for an application. EOE
Dan Wessel
USD 341
404 Park Street
Oskaloosa, KS 66066
Email: dwessel@usd341.org
Telephone: 785-863-2539 ext. 501
Positions are open until filled.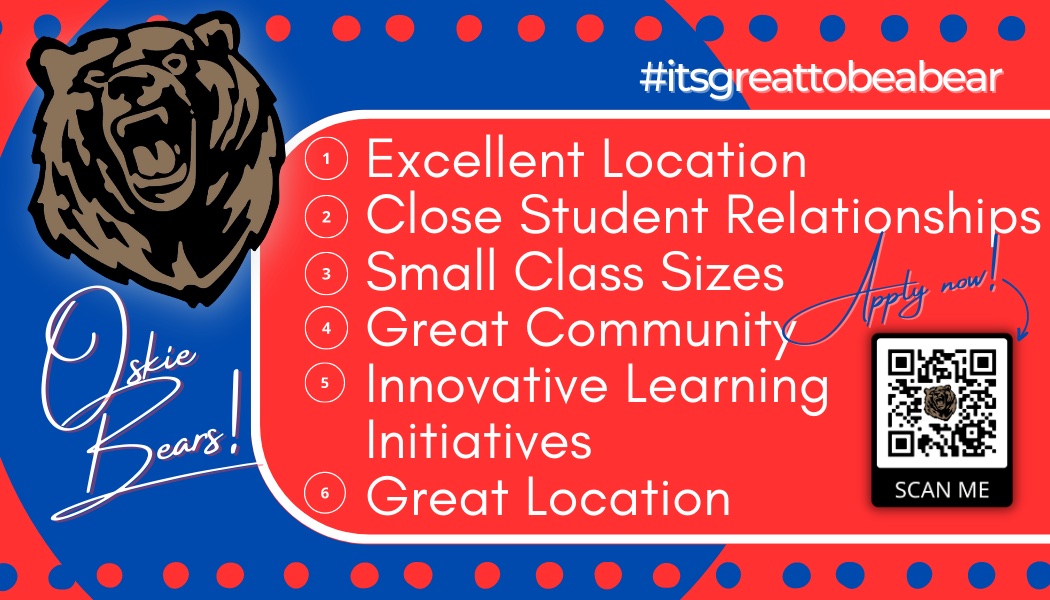 Oskaloosa prides itself in offering the latest education technology. This includes
Chromebooks or iPads as 1:1 devices for K-12 students.

MacBooks for teaching staff.

Each classroom equipped with Epson smart projector.

Google Suite utilized across campuses.
Financial
Health
Single Health Insurance Policy w/ a $2,500 Deductible (Certified Employees)

Group Term-Life Insurance w/ $20,000 Coverage (Certified Employees)
Time Off
13 Discretionary Leave Days

3 Professional Leave Days

Attendance Bonus 1% of Base Salary